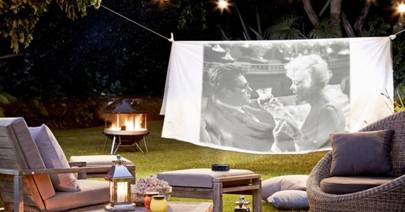 All products are independently selected by our editors. If you buy something, we may earn an affiliate commission.
Now that cinemas are closed indefinitely and the evenings are warm enough be alfresco, an outdoor cinema suddenly seems like the perfect lockdown solution for film lovers. They're super easy to set up once you have the kit and the technical know-how. All you need is a projector, screen or white bedsheet, film source (i.e. a laptop, DVD player or streaming device – we recommend the Google Chrome Cast and the Amazon Fire TV Stick) and some kind of cosy outdoor furniture.
Hang your sheet or place your projector screen in a dry and secure area, away from any wind. Connect the projector to your film source – this could either be a computer or DVD player – and away you go. If you don't have a projector with a sound bar built in, you will need to also connect some sort of speaker system. You can create a comfortable seating area using chairs, beanbags, cushions, rugs, blankets and anything else that helps to create a relaxing cinematic experience. We've rounded up some of the best projectors, screens and comfy seating options for a lovely night at the movies.