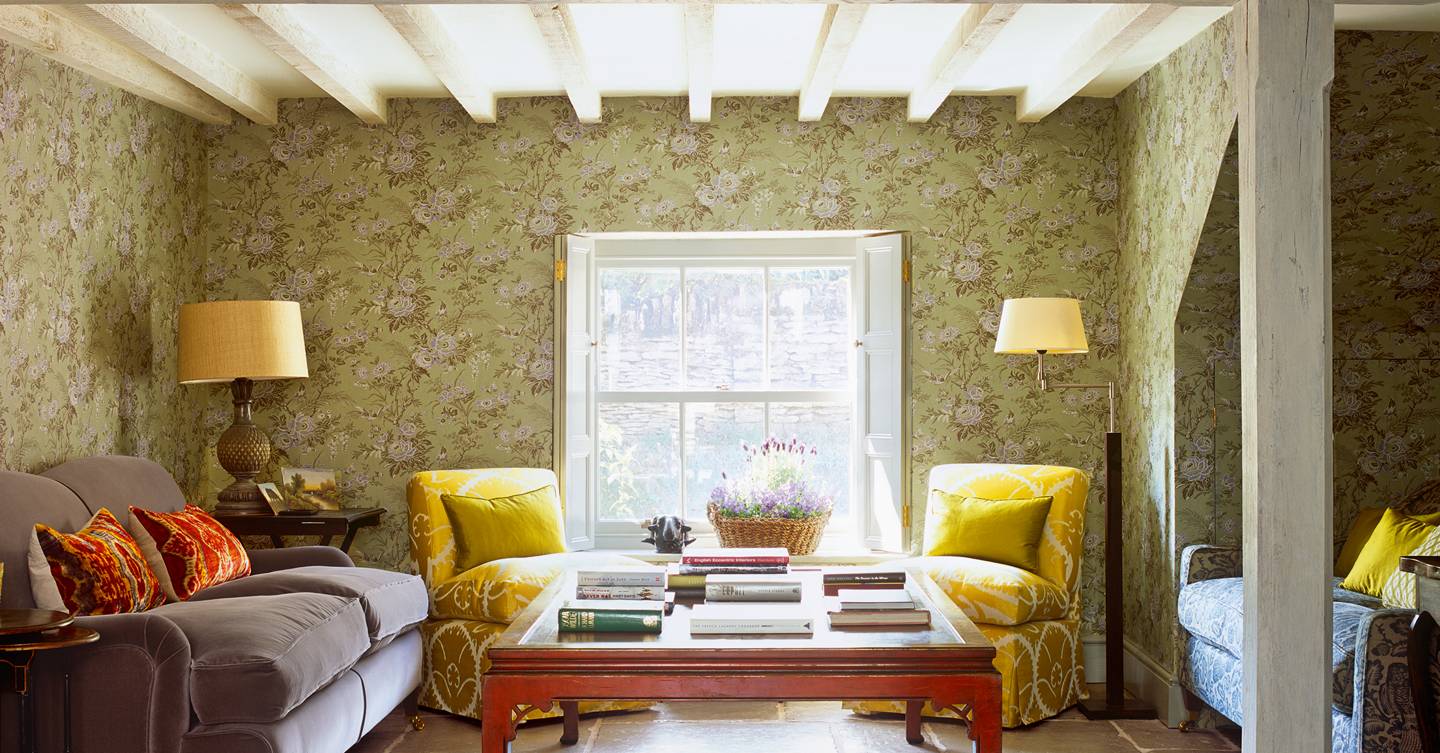 It was the windows that did it. Big Georgian sash win­dows, incongruous with the very small, converted Methodist chapel in Oxfordshire. 'They were the main reason I was attracted to the house,' says interior designer Diana Sieff, 'because nor­mally Cotswolds cottages have those tiny weeny ones.'
Diana bought the unmodernised Ebenezer Chapel four years ago from 'a little old lady who lived only downstairs'. She spent a year on the renovations, first stripping out the central heating and installing a heating system that is more environmentally friendly. 'There's an air-source heating company based in Tetbury near Highgrove,' she explains. 'Prince Charles is obviously into the low-carbon Green movement, as is my son, Leo Hickman, who writes about Green issues for The Guardian. He's put air-source heating into all of his staff cottages- Prince Charles, that is, not my son.'
When initially converted, the chapel had been divided up in the old­fashioned way into lots of small rooms. So Diana set about reworking the space for modern living: the ground floor was opened up; a kitchen-­dining room extension was added to the back; the two first-floor bedrooms became one main room; and a charming second bedroom was carved out of the attic. 'I wasn't sure how big the attic was, so I asked a tall friend to stand on a rickety chair and put his head through the hatch in the bathroom. He let out the most piercing scream,' says Diana with a laugh. 'There was a dressmaker's dummy in the attic that he thought was a ghost. It was a real Psycho moment.'
Having removed the small kitchen in the main house to make a larger sitting room, Diana added a New England-style, clapboard extension with a reclaimed Victorian skylight at the back of the house. This now makes up the kitchen, dining room and a handsome larder. She layered the walls with horizontal tongue-and-groove boards – 'which, weirdly, makes the ceilings look higher' – and painted everything, cupboards and all, in glossy, light-reflecting paint. 'The local painter said, "Ooh no, you can't use gloss, it's so old-fashioned. The only person we've had use it recently is Carole Bamford." And since she is renowned for her chic style, I replied, "My point exactly."'
The high-gloss kitchen opens on to the sitting room, creating an open­ plan feel. Diana slotted in a wood-burning stove at the intersection of the two rooms, 'because that's where the flue and chimney were'. Although it's not in the traditional place, there are always benefits to quirks. 'Not having the stove in the middle of the room leaves a huge space for dancing after dinner,' she explains.
From the sitting room, salvaged double doors, from Cox's Reclamation Yard in Moreton-in-Marsh, lead to a little hall and stairs to the first floor. Diana used her husband's – film director Aubrey Powell – favourite Lewis & Wood print to paper the main bedroom, which is dominated by a huge four-poster bed. 'I got it off eBay for £200,' she says. 'I like using big furniture in small spaces, because it gives the illusion that the room is bigger. Although I did have to take the finials off the bed posts, as they hit the ceiling.' Another Sieff trademark is the dearth of curtains. 'I had shutters made,' she explains, 'which I prefer because they're minimal and less light-excluding.'
Despite her own distinctive design brushstrokes, Diana never imposes strict rules on her clients. 'The real issue when decorating for others is that it's not your house,' she explains. 'I'm not interested in having a "Diana Sieff" stamp.' Although in this case, these interiors resonate with her effortlessly stylish imprint. It is her house, after all.